You may need to share your assets with one or more colleagues, or even with a partner who oversees some activities on these. In our IIoT applications, you can give access to any object (nodes, tags or assets) to anyone. This allows you to work perfectly in a team and it's super simple.
For an explanation of the meaning of each of the four permissions that are available, please see this related article.
Grant a permission
To grant permission to an object, proceed as follows:
Enter the Edit mode of the related object
Add the user's email address or select the user group in the Permissions section
Select the needed access rights
Click on "Add user" or "Add User Group" as appropriate
Note: Permission is applied to the object concerned and the objects assigned to it (e.g. a user will be able to access the content of the node if it has content placed in it).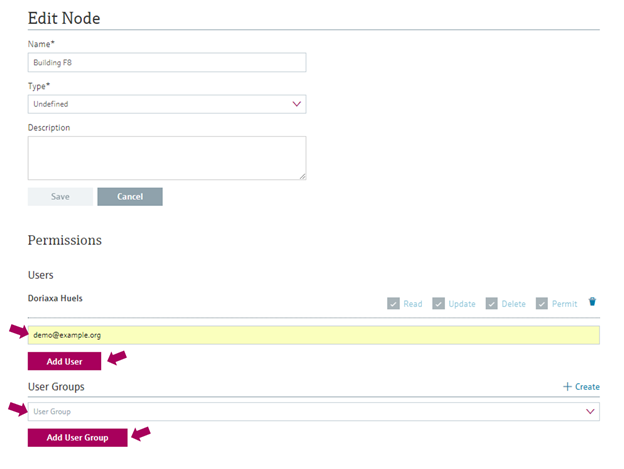 Edit a permission
Things evolve over time. A given permission may request some modification. You can edit permissions at any time you like. To do this, select or deselect the access rights. The action will be automatically considered.
Note: Any user or user group with "Permit" access right can edit permissions.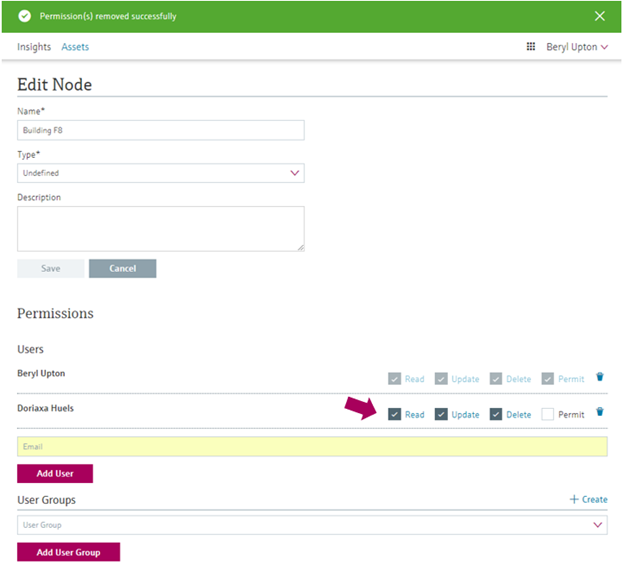 Remove a permission
You can remove a permission to a user or a user group at any time. To do this, click on the trash icon next to the access rights of the concerned entity.
Note: Any user or group of users with "Permit" access right can delete permissions.